Top 10 MMA Moments of 2022
As 2022 comes to a close, we celebrate our cadets' successes. Please read our top 10 moments below, plus a few of our honorable mentions. After reviewing the past, take a look at MMA's future by reading about our strategic plan. 
---
Top 10 MMA Moments
1. 133rd Missouri Military Academy Graduating Class Celebrates Commencement
On May 21, 2022, thirty-nine seniors and two post-grads took part in Commencement and Final Formation, all having achieved college acceptance. The Class of 2022 was offered more than $4.1 million in college scholarships.
2. ISACS Accreditation Affirms Missouri Military Academy's Focus on Mission and Delivery of High-Quality Education
Following an in-depth review, the Independent School Association of the Central States determined that Missouri Military Academy meets all requirements necessary to continue as a member in good standing with full accreditation.
To achieve accreditation, ISACS schools undertake a comprehensive, rigorous and thorough process of school improvement over a seven-year cycle involving broad participation of school personnel, the board of trustees, and major constituencies. The process includes an in-depth self-study, surveys, financial audits, and external review by a visiting ISACS team.
3. JROTC Program for Accreditation Inspection Showcases MMA Cadet Leadership and Discipline
The 133rd Missouri Military Academy Corps of Cadets, led by Battalion Commander Michael Machary-Pagan '22, executed the 2022 Army Junior Reserve Officers Training Corps (JROTC) Program of Accreditation (JPA) on April 8. This year, they earned an impressive 98.3 on the JPA Inspection.
4. 2022 Maroon & Gold Gala Benefits Cadets with Record-Breaking Amount Raised
More than 300 members of the MMA community came together on campus to support the Academy at the 2022 Maroon & Gold Gala on April 23. Those in attendance, sponsors and other supporters demonstrated incredible support of the MMA mission, raising more than $210,000 (after expenses) — a new fundraising record for the event.
Funds raised at Maroon & Gold support MMA's strategic plan objective to develop cadet life programs such as competitive band, athletic and military teams and strong intramural programs that attract and retain cadets, build esprit de corps, and encourage participation in recreational activities.
5. Cadet Michael Machary-Pagan Earns First Place in Nation for Armed Drill Team Commander
Michael Machary-Pagan '22, then-senior from Lake St. Louis, Missouri, earned first place in the nation for armed commander at the National High School Drill Team Competition (NHSDTC), All Service Drill National Championship on April 15 and 16, 2022, in Daytona, Florida. He was awarded the armed commander trophy for outstanding military bearing, command voice, technical impression, and precision impression. Seventy schools and 1500 cadets competed at the 2022 All Service Nationals.  
6. MMA Rifle Team Finishes 7th in 2022 Army JROTC National Championship
Following the 2022 JROTC National Championship competition, the MMA Colonels Rifle team ranks seventh nationally in the Army JROTC program. A total of 2,178 JROTC cadets from across the United States, Europe, and the Pacific competed for the national title in Camp Perry, Ohio, March 17-19.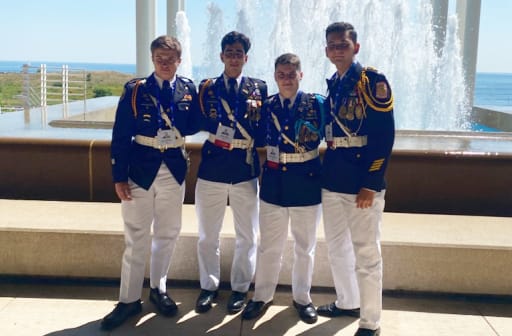 7. MMA Cadets Compete at 2022 Nationals Future Business Leaders of America Competition
MMA's Future Business Leaders of America (FBLA) International Business and Sports and Entertainment Management teams competed at the National Leadership Conference (NLC) in Chicago June 29-July 2. The teams qualified for nationals in April at the Missouri State Leadership Conference (SLC) after placing first in Sports and Entertainment Management and third in International Business. 
The NLC is the centerpiece of FBLA. Teams from all 50 states, some territories and Canada participate for ranked placement. At the NLC, roughly 200 teams compete for each of FBLA's 75 subject-area events. In round two, the top 15 individuals or teams from roughly 200 individuals or teams are selected to compete in the 75 competitions. Though the cadets did not place nationally, they carried themselves with confidence and authority and represented the Academy well.
8. MMA Colonels Swim Team Has Historic Wins at State Competition
November 11 and 12, for the first time in MMA history, the Colonels swim team competed at the State swim competition in St. Louis, Missouri. This achievement comes on the heels of a record-breaking season, where swimmers beat eight school records in the 200M medley relay, the 200M freestyle, the 200M individual medley, the 100M freestyle, the 400M freestyle, the 200M freestyle relay, the 100M breaststroke and the 400M freestyle relay.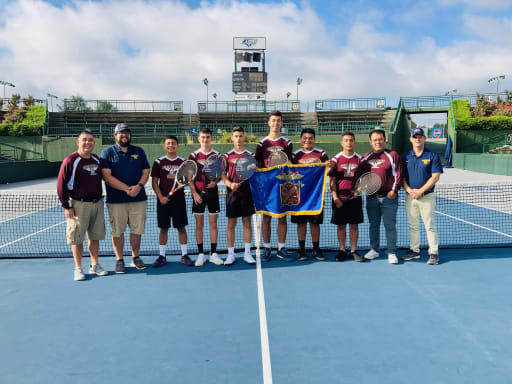 9. MMA Tennis Team Places Fourth at State
In May 2022, for the first time in 30 years, MMA athletes made a trip to the Final Four. Colonels Tennis finished fourth in Class 1 state competition. This was MMA's first overall athletics Final Four appearance since 1992. A program that continues to grow stronger for our cadet-athletes, Colonels Tennis went 11-3 this season and 24-4 during the last two seasons.
10. MMA Brotherhood Supports Cadet Scholarships
This Homecoming, spurred on by Chris Gentry's '88 Homecoming 1889 Scholarship Challenge, the MMA brotherhood made a concerted effort to increase scholarship support at MMA. Overall, this Homecoming raised a grand total of $44,158 for cadet scholarships. Join the effort – become an 1889 Scholarship Supporter.
---
Top MMA Honorable Mentions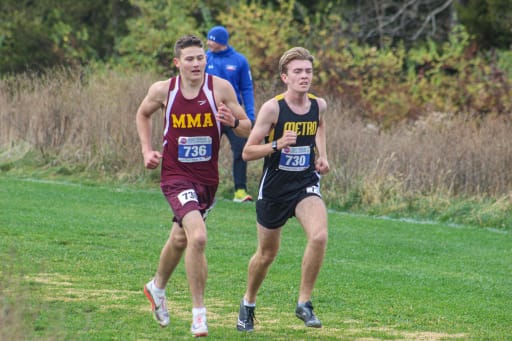 1. Cadet Powell Finishes 10th in State in Cross Country
Cadet Bryson Powell, a high school senior from Brighton, Colorado, ran a 17:18 on the 3.1 mile (5K) course to finish 10th at the Missouri State High School Activities Association cross country Class 2 championships in Columbia, Missouri, on Saturday, November 5, 2022. 
2. Colonels Track Athletes Set New MMA Records in State Championship Competition
Two Colonels track cadet-athletes earned the right to compete at the Missouri State High School Activities Association (MSHSAA) state track and field championship for Class 2, District 3, on May 20 and 21, 2022 in Jefferson City, Missouri. Both cadets broke MMA records while competing at state.
3. MMA Academy Band Performance Ranked Outstanding at District Music Festival
The MMA Academy Band earned the ranking of outstanding at the District 18 Missouri State High School Activities Association music festival in Columbia, Missouri, on March 16, 2022.
The festival, hosted at Muriel Williams Battle High School, invited large groups — which must include at least half of all students grades nine through 12 at each school — to perform prepared pieces. The Academy Band played "Encanto" by Robert W. Smith and "Procession of the Nobles" by Andrew Balent.
4. Missouri Military Academy Cadets Earn 5 Trophies in National Military School Competitions
The Association of Military Colleges & Schools of the United States (AMCSUS) announced the 2021 competition winners at their annual conference in Alexandria, Virginia, in early March. Competing against cadets from top-ranked military schools from across the nation, Missouri Military Academy brought home five trophies in competitions, including the logic bowl, high school drill team, middle school drill team and high school and middle school physical training (PT) challenges.